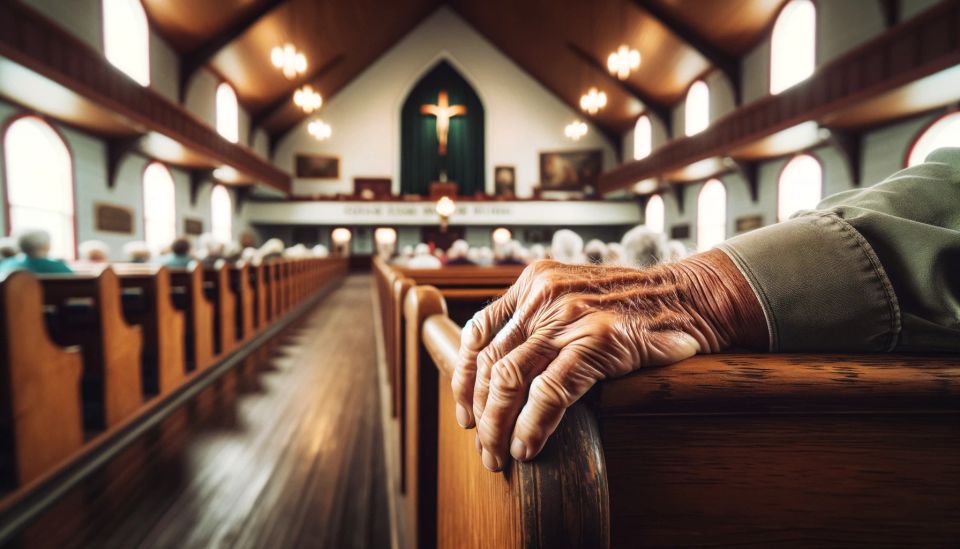 Introduction
Welcome to the sermon preached at WHBC on Sunday night, November 12, 2023, titled "God is Looking for a Few Faithful Men." In this message, Pastor Gary Caudill delves into the essence of faithfulness as highlighted in 2 Timothy 2:1-2. The Scriptures remind us of our duty to pass on the faith to trustworthy individuals who will continue the legacy of teaching others. This sermon also draws lessons from Matthew 25:14-30, Ezekiel 22:30, and other passages, emphasizing the importance of faithfulness in the Kingdom of God.

Join us by hitting the audio play button above (it will appear after you scroll down a little) as we explore the calling, responsibility, and the essential role of faithfulness in our Christian walk. The message encourages us to work diligently, striving lawfully in the battle for souls, and to put away childish things as we grow in our faith. Remember, this journey isn't always easy, but as 1 Thessalonians 5:24 reminds us, "Faithful is he that calleth you, who also will do it." Let's embark on this journey together, seeking to be faithful in all that we do for the cause of Christ.
God is Looking for a Few Faithful Men!
by Gary Caudill
Washington Heights Baptist Church
11-12-2023, Sunday Evening Service
Notes 
2 Tim. 2:1-2
    Thou therefore, my son, be strong in the grace that is in Christ Jesus. [2] And the things that thou hast heard of me among many witnesses, the same commit thou to faithful men, who shall be able to teach others also.



pistos,

Greek - object trustworthy; subject trustful :- believe (-ing, -r), faithful (-ly), sure, true.

1. Firm in adherence to the truth and to duty.

Matthew 25:14-30
    For the kingdom of heaven is as a man travelling into a far country, who called his own servants, and delivered unto them his goods.

*The Calling

*The Responsibility

[15] And unto one he gave five talents, to another two, and to another one; to every man according to his several ability; and straightway took his journey.

[21] His lord said unto him, Well done, thou good and faithful servant: thou hast been faithful over a few things, I will make thee ruler over many things: enter thou into the joy of thy lord.

[23] His lord said unto him, Well done, good and faithful servant; thou hast been faithful over a few things, I will make thee ruler over many things: enter thou into the joy of thy lord.

[26] His lord answered and said unto him, Thou wicked and slothful servant, thou knewest that I reap where I sowed not, and gather where I have not strawed:

Ezekiel 22:30
    And I sought for a man among them, that should make up the hedge, and stand in the gap before me for the land, that I should not destroy it: but I found none.

*Who will step up and accept the Task at hand?

*Slothful, Careless Workers are a dime a dozen.

2 Tim. 2:15
    Study to shew thyself approved unto God, a workman [toiler] that needeth not to be ashamed, rightly dividing the word of truth.

1 Tim. 5:17
    Let the elders that rule well be counted worthy of double honour, especially they who labour [

kopiao,

Greek - to feel fatigue; by implication to work hard :- (bestow) labour, toil, be wearied.] in the word and doctrine.

*If you want Honor in the Kingdom of God, you must work for it.  It won't come automatically, nor will it come by force or demand, but by earning it.

Ephes. 4:1     I therefore, the prisoner of the Lord, beseech you that ye walk worthy of the vocation wherewith ye are called,

2 Tim. 4:5 But watch thou in all things, endure afflictions, do the work of an evangelist, make full proof of thy ministry.

*Don't tell us you're God's man….SHOW us your God's man!

1 Cor. 13:11b …when I became a man, I put away childish things.

2 Tim. 2:4-6
    No man that warreth entangleth himself with the affairs of this life; that he may please him who hath chosen him to be a soldier.

*You're in a fight for the souls of men, so start acting like it!
*God don't choose wimpy sissies to do His Work.

[5] And if a man also strive for masteries, yet is he not crowned, except he strive lawfully.

*Your rewards (effectiveness and honor) will only come if you fight by the book.

*Many want to enjoy the fruits of the harvest without doing the work…

John 4:38
    I sent you to reap that whereon ye bestowed no labour: other men laboured, and ye are entered into their labours.

[6] The husbandman that laboureth must be first partaker of the fruits.

*  You get what you earn!

*  God is not going to just hand you the harvest, and the celebrations of a prosperous ministry.  You will WORk for it.  Get serious about God's work, and get to the plow!!

2 Thes. 3:10 For even when we were with you, this we commanded you, that if any would not work, neither should he eat.

*Lazy preachers, laymen, and members are some of the worst testimonies placed upon the church.  "We want it all, we want it now, and we don't want to have to work for it." Is the average attitude of an American Christian.

*If you want to drink of the waters of Bethlehem, you must exhibit leadership that is worthy of loyalty.

THIS IS NOT BOOT CAMP, THIS IS WAR!
(no one ever said faithfulness would be easy)

1 Thes. 5:24
    Faithful is he that calleth you, who also will do it.
Attention Preachers, Teachers, and all Bible Students 
I welcome you to download this sermon outline if The Holy Spirit directs you to use any of this material to help you in your personal Bible study and/or to prepare for teaching and preaching in your respective ministries.  Blessings to you all. ~ Pastor Gary Caudill

NOTE:  If you are a pastor who may be interested in your own Corner Stone Keynotes platform by which to anchor all of your teachings to the KJV Bible text with digital "footnotes", contact me for more info.  Click on 2 Tim. 2 below, then scroll down to verses 1-2 for the complete loop for illustration purposes.